Need another reason to come out to the 20's Hideout Steakhouse? How about the most talented live pianists in the area. Every night, our restaurant features some of the best live jazz from local musicians sure to enhance your dining experience.

Be sure to check out the Entertainment Schedule for a listing of when to hear your favorite artist or click on the Entertainer Bio's section to learn more about our talented pianists.


Pianist Mel Goot was born in San Diego, but spent his early years in Mexico City. Self-taught, he later attended San Diego State University where for four years he was the top pianist with the award-winning SDSU Jazz Ensemble. Following college, Mr. Goot gave jazz history presentations and jazz improvisation clinics at both San Diego and Los Angeles area schools under the...
Mel Goot
August 20th, 5:30pm to 8:30pm
Bob Pina
August 21st, 5:30pm to 8:30pm
Mel Goot
August 22nd, 5:30pm to 8:30pm
Kevin Jamieson
August 23rd, 5:30pm to 8:30pm
Kevin Jamieson
August 24th, 5:30pm to 9:30pm
Bob Pina
August 25th, 5:30pm to 9:30pm
Mel Goot
August 26th, 12:00pm to 2:00pm
Bob Pina plays standards, jazz, blues, and requests on our grand piano every Tuesday and Saturday night. Well-known throughout Southern Illinois as an accomplished keyboard player and vocalist, he has played piano and saxophone with bands such as Coal Kitchen, Rolls Hardley, and Big Twist and the Mellow Fellows, and currently plays piano with Southern Swing.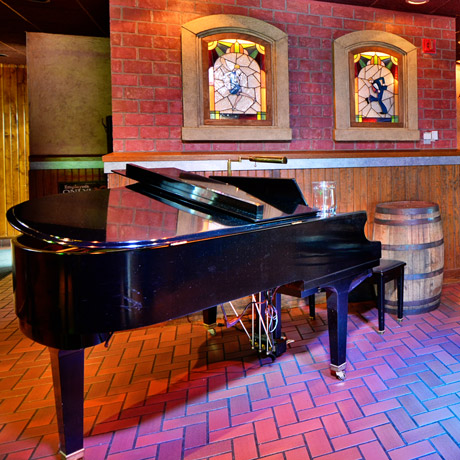 Matt Martino is a Southern Illinois native and graduate of the SIU school of music. After ten years working as a professional musician in Nashville Matt has returned home to be near family.
Kevin commenced piano lessons as a 9 year old in Perth Western Australia and has been tickling the ivories ever since. As a youngster, music was always a magnet; particularly music from the WW2 era and from the 30's, 40's, 50's and 60's. In 1964 when Kevin heard the Beatles, the die was cast and he was soon involved with Perth rock'n roll bands and his pursuit of music...
Michael Deutsch is rooted in the blues, soul, and jazz. Some influences include Oscar Peterson, Art Tatum, Bill Evans, Cory Henry, Ray Charles, Herbie Hancock, and Chick Corea. After teaching himself guitar and piano in highschool, he began lessons at Harper Community College in the northwest suburbs of Chicago. There he studied music theory, jazz piano, guitar...
Matt Galik was born and raised in Southern Illinois, and is now a Physics student at Washington University in St. Louis. He has worked with Dance4Grandma Productions in numerous theatrical productions, including You're a Good Man Charlie Brown, Legally Blonde, CATS, Joseph and the Technicolor Dreamcoat, and twice played for the Rocky Horror Picture Show. He has...